'Ascension' was released in the UK on March 29th 2006 and is available from the band at shows and online on this page and from the Shop.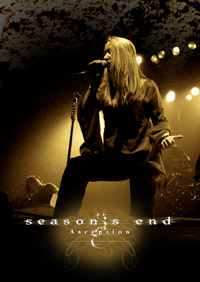 Season's End's debut DVD offering is now available to order online for only £10 including postage & packaging.
The first 200 sold also included a three-song nearly-acoustic EP titled 'Distant Dreams', featuring reworkings of 'Touch', 'Celestia' and 'One Sadness'. Stocks of these are unfortunately now sold out.
Bloodstock 2005 Show
Nothing After All
Touch
Forevermore
Ghost In My Emotion
Into The Flames
Behind-the-scenes featurette
Ghost In My Emotion
Promotional video
Making-of-featurette
Insight into Season's End
Fifty minute featurette including interviews,
clips of Celestia live and much more
Extras
Gallery containing more than 200 photos
Live videos of Innocence and Into The Flames
Acoustic reworkings of Touch and Celestia
Produced by Season's End and Raucous Media Productions. Total running time approximately 150 minutes, region 0 (all)